Matthew 20:27-28, NRSV:
and whoever wishes to be first among you must be your slave; just as the Son of Man came not to be served but to serve, and to give his life a ransom for many.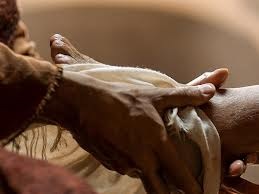 Jesus' instruction was that we should consider others' needs ahead of our own, to be servant (or slave) of our fellows. Have we given enough of ourselves? Certainly we have not given our very lives! Christ, the God-man, demonstrated the extent of His commission: "Lay it all down like this," as He again attempts to convey to His followers that His death was imminent.
There are certain things about my new calling toward becoming a missionary nurse that I find unsavory, and I can't help but think about some of them when I read this verse. How disgusting and humiliating a task is before you? Is it worse than leaving the throne of Heaven to come to a stable hay feeder, to touch lepers, embrace sinners, be grabbed by the "unclean" bleeders, be betrayed by friends, abused by guards, miscarried by a faulty justice, beaten with a cat-o-nine-tails, nailed to a log, and suspended till you could breathe no more? Nope! I think, given the example of the Model before me, I might be able to put up with a little more discomfort on behalf of those precious lives Jesus endured all that to save.
Dear Father, today, I lay down my life for Your purposes. Help me remember not to snatch it up again when Your purposes reveal themselves as unsavory circumstances or people. Save me from selfishness!