Day Sixteen, April 30: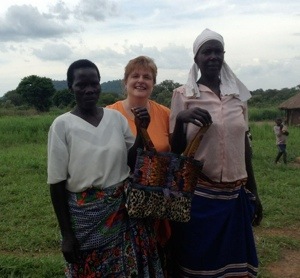 This morning we got up and availed ourselves of the hotel breakfast and committed to get some rest before our flight home tonight. The thoughts and memories of this trip, however, made it difficult to sleep, as Cindy and I both stirred the cauldron, pouring over it our dreams, hopes, and plans for the future.
Restless, I calculated our trip expense log and discovered we spent much less than we planned even with the last-minute hiring of Anthony our driver. Cindy and I marveled at how naive it was to have even considered taking this trip without him, and wondered what we had been thinking when we expected to bus or taxi across Uganda. Silly Mzungu! Renting a car was once an option for the uninformed, but since roads have no markings, and traffic here is a culture-shock nightmare, I would have killed us or someone else the first day!
God has orchestrated every step of our journey to be exactly what we needed, and I need to remember every detail so that I don't miss whatever instruction He has in the experience of it. Conversations play over in my head (complete with accents) and are accompanied by the questions, emotional responses, and spiritual misgivings about what I witnessed here. There is corruption here like nowhere I've been, but there is also unrivaled need and shallowness of spirit, as each person scurries after their own needs, and the women, usually abandoned by self-serving men, are left to scurry after the needs of their children, or are forced by their own selfish fears to abandon them too. Such women either find creative ways to shed their responsibilities or creative ways to meet them. Selling a child might land a mother in prison, but either way she would be free from the overwhelming burden of feeding two mouths with no income. Incarceration is a form of liberty with meals included even though prison is only a slight step up from living in a latrine. Farming is everyone's responsibility here. Even if one has no job, one is expected to grow something to feed their family. Since farming even a small plot is hard work, the lazy choose other means. Alcoholism is rampant here, as there seems to be much heartache to escape and little resource to ease the pain except the gathering of drunkards and the abundance of alcohol in various forms. Certain illicit drugs are being introduced too, and the addiction of the night life, which I have not witnessed, drives them to attack anyone who might have the resources they need. According to police, the number one crime is robbery, followed by murder during robbery, since the primary method is blunt trauma to the head of an unsuspecting victim, most often a boda-boda passenger, who is easy prey since s/he is already exposed and can be delivered to predators by the boda-man. Investigation and enforcement is difficult since a victim could just as easily be identified as a traffic accident victim whose pockets were cleaned out by locals while s/he was incapacitated, as is allegedly customary. Generally speaking, everyone needs, and there is an underlying persuasion that it is okay to take from those who have extra, like Bzungu (white people), who are perceived to be a limitless resource of wealth. This is why most expatriates live in walled compounds behind locked gates and barred doors. Everything that is not secured disappears at night.
I am conflicted about that. In my studies of the Proverbs I read:
"Whoever builds a high gate invites destruction." (Proverbs 17:19b NIV)
I always considered that if one removes the curiosity and includes one's home among those of his neighbors, he is less likely to be victimized by them than if he erects this "high gate." Those that had tried this, however, told us that they found themselves victims of theft, prowling, and vandalism nightly. I considered setting up a reception shelter outside my house, with a bell to be rung when my clinical services were needed. If I freely give, it seems reasonable that I should have no fear of losing what I have, but I can hear all my new missionary friends laughing at that statement even before I ever say it. The proverb, I think, refers to one's attitude that they control the security of their property, rather than trusting God and being a steward of His resources. Proper stewardship requires prudence, and I learned that even the side view mirrors on a twelve year-old Toyota are a hot commodity around here, where some locals have never even seen what they look like. Enough about security. I'm no longer a cop!
Certain aspects of this trip have been especially liberating.
Spending time with Cindy without daily hassles. Being on unfamiliar ground kept either of us from being expert at anything, and on even terms.
Not driving. Letting Anthony, Carol, Laurie, Steve, and Charlie the boda-man concern themselves with the traffic suited me just fine.
Not shaving or styling my hair. Cindy thinks my curls and short beard are adorable.
Not fretting over every calorie consumed. Those who know me well know I track everything I eat. This trip, I just ate normal meals, abstained from sweets, cookies, cakes, ice-cream and nachos, and from throwing in the dietary towel, and I was just fine. I probably didn't even meet my minimum calorie goals any day but yesterday when the jackfruit might have put me over.
Recapping our ministry tour, we personally contacted: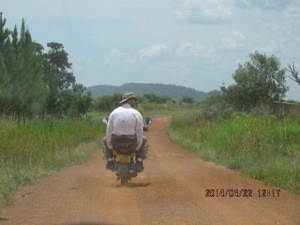 I would be delighted to know that my communication about any of these ministries facilitated a stirring in any heart to contribute toward their support, not that the left hand should know what the right hand is doing, but just so the left hand knows it has a complimentary opposite hand.
Until we land in the States, Todd Lemmon, signing off in the fashion of the Wells of Hope Academy kids:
(from 2 Corinthians 13:14 NIV)
"May the grace of the Lord Jesus Christ, and the love of God, and the fellowship of the Holy Spirit be with you all."
Now and forevermore. Amen!