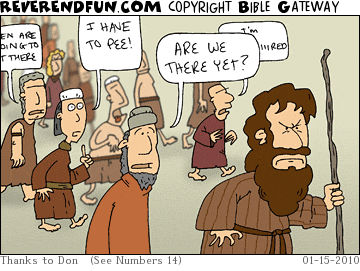 I confess I am much like the Israelites delivered from Egyptian slavery. A few days in the wilderness with Moses, and they seemed to forget the mountains of water between which they walked across the Red Sea on dry land, and instead began whining about where their next meal might come from. Here I am, a new graduate from nursing school, draped in honor cords, after repeatedly begging for deliverance from what seemed like countless narrow brushes with disastrous failure. My feet are dry and the fish are watching my onward march from the confines of their heaping habitat. No sooner have I heard the crashing of the waves behind me before I've turned my eyes to peer past the pillar of fire and smoke to what lies ahead.
Remember the wonders he has done, his miracles, and the judgments he pronounced... (1 Chronicles 16:12, NIV)
How will I pass the nursing boards? Where will I work? Who will hire a middle-aged man when there are so many young kids graduating with me? Why did my first-choice hospital pass me over? Why haven't I heard back from the other recruiters? How did s/he land a job ahead of me?
What is this manna? Did you lead us out here to die? When will we get some meat? Surely we were better off as Egypt's slaves than being stuck in this wilderness!
"…remember the Lord your God, for it is he who gives you the ability…" (Deuteronomy 8:18a, NIV)
As it turns out, God is already doing new and wonderful things. Allow me to share a miraculous demonstration of His undeserved goodness:
I was invited to apply for a nursing job about which I was eager but mysteriously uneasy. It seemed perfectly tailored to me with elements of corrections, addiction, and youth all rolled into a low-stress environment which was even conducive to continuing education. It tempted me with its apparent answer to my ongoing question: "Why would God make a nurse out of a retired police officer?" The drawbacks were that it would not give me much clinical nursing experience and it seemed like a step back toward law enforcement rather than forward into nursing. I prayed with friends at church about it, that God would make the right decision obvious, and that a clear "Gideon's fleece" would be if the nurse I would be replacing decided not to submit his notice as anticipated. The next day, I woke up horribly dizzy (a condition that passed in about 6 hours and was likely related to a recent sinus surgery). When I contacted my friend to postpone our meeting about the job, she informed me that there was no rush to meet because the nurse I would be replacing decided not to submit his notice as anticipated. Soaked fleece identified! The job is not for me. Out of respect for my friend and her invitation, I proceeded a few days later to meet at the rehabilitation facility where she affirmed in several ways that, while this was a good paying job and a wonderful ministry, it was not a place to build the experiential nursing skills I will need to be a productive missionary nurse.
Because of the Lord's great love we are not consumed,
    for his compassions never fail.
 They are new every morning;
    great is your faithfulness.

(Lamentations 3:22-23, NIV)
The very next day, at precisely 3:06pm, my friend and pastor sent me a text inquiring about my health. I shared with him the details of my progress and the soaked fleece story. He responded prayerfully, "Ok God, send Todd the next test on your agenda."
At 3:24, only eighteen minutes later, I received a call from a recruiter who represents my first-choice hospital, one I had been informed had passed me over. She informed me that, if I was still interested and not turned off by the prospect of night shift, she had a spot open for me. We scheduled an interview for later this week, and I am over the moon with excitement about the prospect. Other options continue to become available, and I am reminded that, whether I get the whole picture of the destination on the horizon or am blinded by the blazing cloud in front of me, the One in the pillar is directing my steps and I have nothing to fear.
I do believe, Lord Jesus! Help me overcome my unbelief. *
"And if I could tell you all, you would see how God has done all, and I nothing."  - Florence Nightingale